---
What is CorelDraw?
CorelDraw is a graphic design software program developed and released by Corel Corporation. It is a vector graphics editor. This software provides many features to the users to edit graphics. The latest version of CorelDraw is marked as CorelDraw graphics suite2019. It was released on 12 March 2019. This software is used for color balancing, contrast adjustments, adding special effects to images like borders, and is capable of working with multiple layers and pages.
Uses of CorelDraw
• CorelDraw is beneficial for designing different artworks like logo designing, poster designing, etc.
Graphic design courses in Indore, graphic design classes - Click Here
Making a poster in CorelDraw- To design a poster in CorelDraw, fewer rules are to be followed. It offers the privilege to the user that other designs do not. You can show your creativity by designing various forms of posters with CorelDraw.
• Design a basic shape for regular need- With the support of CorelDraw, you can create various shapes that we need in our daily lives. For example, big Emojis, cartoon sketches for composing stickers, and many more. With CorelDraw, it is effortless to draw basic shapes.
• Making small invitation cards- Nowadays, the World is going digital. Most of the people use digital technology for communication. As we have seen, wedding invitations are delivered through WhatsApp, because it is time-consuming. We can use CorelDraw to compose small invitation cards, greetings at home. It is very effective for us because there is no need to go to any shop.
• Transforming Bitmap into Objects- The conversion of Bitmap into an object is convoluted work, but CorelDraw makes it simpler. Corel has a good assemblage of tools which makes converting easier. Just right-click on Bitmap and choose what you want to do-
CorelDraw Training in Indore offered by Tech forest is designed for all the students who are looking forward to building their career in CorelDraw and Graphic design. We at Tech forest are making our trainees job-ready by providing reliable training on all the updated software tools used for designing purposes. Tech forest makes sure that the gap between the academics and the industry standards is filled by learning the CorelDraw course in Indore with us. We assure you that once you complete this course, you would be ready to start your work as a CorelDraw expert. Tech forest mainly focuses on providing a complete experience to each student on all the CorelDraw tools, both theoretically and practically.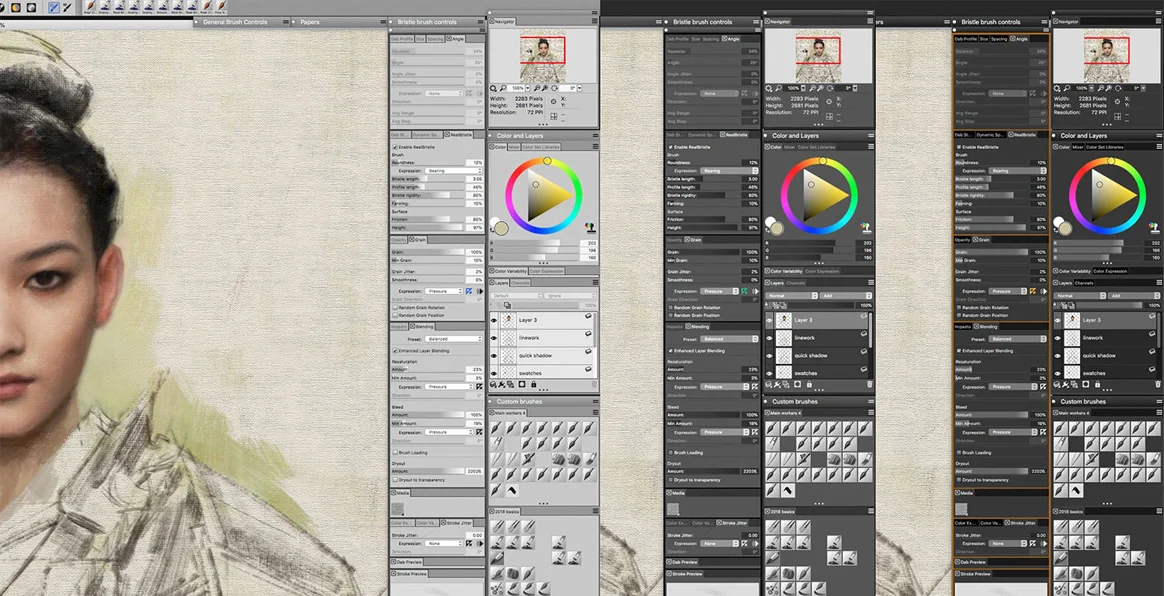 Why should you learn CorelDraw?
Starting your career as a CorelDraw expert opens doors for endless career options. As the digital era is growing at a startling rate, the demand for highly skilled CorelDraw designers is at the peak. Do not miss out on amazing career opportunities that the Graphic Designing industry offers.
Here are few more reasons for you to join CorelDraw classes in Indore
High Paying jobs as a CorelDraw Designer in reputed companies.
Opportunity to travel and work abroad after 3 years of experience as a CorelDraw Designer.
Earn extra income through freelance CorelDraw Designing projects online
As the digital era is rising, every company needs a CorelDraw editor. Hence the demand for CorelDraw designers is on the rise
As per the report of Payscale.com, the Average salary for Graphic Designer is Rs 5,00,000 per annum.
CorelDraw course content
MODULE 1- CorelDraw Course Contents
CorelDraw Basic and Interface
Exploring the CorelDraw Screen
File Management
Setting Up the Page
MODULE 2- Moving Around and Viewing Drawings
Moving Around the Current Page
Viewing Modes
Inserting and Deleting Pages
Changing Page
MODULE 3- Customizing Options
Using Multiple Workspaces
Customizing the toolbar
Using Shortcuts
Saving Defaults
Setting File Backups
MODULE 4- Drawing and Shaping Objects
Drawing and Shaping Tools
Using the Freehand Tool
Drawing Lines and Polylines
Drawing Freehand Polygons
Drawing Perfect Shapes
Reshaping Lines and Polylines
Drawing Curves
Reshaping Curves
Drawing Rectangles
Drawing Circles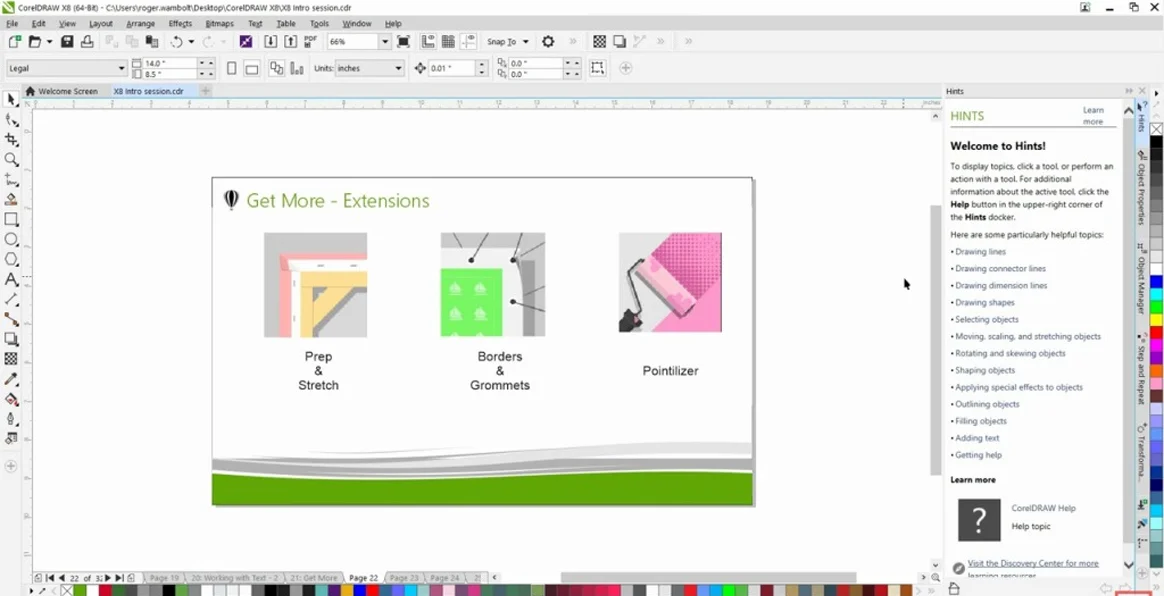 MODULE 5- Selecting & Manipulating Objects
Selecting and Deselecting Objects
Moving Objects
Copying and Deleting Objects
Deleting Objects
Sizing Objects
MODULE 6- Transforming Objects
Mirroring Objects
Rotating and Skewing Objects
Using Transform Objects
MODULE 7- Outlining & Filling Objects
An eyedropper and Paint Bucket Tool
The Outline Tool
Choosing Outline Thickness
Choosing Outline Colors
Using Fill Tool
Uniform Fill
Fountain fill
Pattern fill
Interactive Mesh Fill
Copying Attributes
Setting Outline and Fill Defaults
MODULE 8- Arranging Objects
Arranging Objects
Grouping and Ungrouping Objects
Using Guidelines
Using Snap To
Aligning Objects
Group and Child Objects
Welding Objects
Using Intersection
Using Trim
MODULE 9- Using Layers
About Layers
Editing Layers
Setting Up a Master Layer
Moving, Copying, and Layer
Reordering Layers
Using the Object Manager
MODULE 10- Working with Special Effects
Drawing with the artistic media tool
Shaping an object with an envelope
Extruding an Object
Blending two Objects
Using the Lens Effect
Adding Perspectives
Using Power Clips
Applying Contours
Applying Drop Shadows
Using Interactive Transparencies
Applying Mesh Fills
MODULE 11- Working with Text
The Text Tool
Creating Artistic Text
Editing Text
Formatting Text
Setting Text Options
Creating Paragraph Text
Setting Indents Using the Ruler
Importing Text
Using the Spell Checker
MODULE 12- Special Text Effects
Fitting Text to a Path
Converting Text to Curves
Creating Blended Text Shadows
Special Text Effects
Jumpy Text
Neon Text
Glowing Text
Chrome Text
Bevel Text
Creating Enveloped Text
MODULE 13- Working with Bitmaps
What is a Bitmap?
Importing Bitmap Options
Adjusting Color
Hiding Certain Colors in a Bitmap
Applying Special Bitmap Effects
Creating Web Images
Advanced GIF Options
MODULE 14- Using Styles and Templates
Styles and Templates
Creating a style
Applying a Style
Copying Properties
MODULE 15- Using Corel Trace
Types of Graphics Formats
About Corel Trace
Tracing Image
Importing Traced Files into CorelDraw
Special Trace Effects
MODULE 16- Using Corel R.A.V.E.
About Corel RAVE
Playing sample RAVE
Performing the five steps necessary to
create RAVE animations
Working with the Timeline Docker
Twining objects to create animation
Exporting to Macromedia Flash
Format
Publishing to the web Create a web
Rollovers
Inserting Hyperlinks
Creating Sprites and adding
Behaviors
Creating interactive movies
Why should you choose Tech forest for CorelDraw training in Indore?
Tech forest is having a team of experienced CorelDraw Designing professionals and skilled Trainers with years of experience. We help you to build your career in the Graphic Designing industry by providing you best Graphic design training in Indore which will make you ready as per the industrial standards. We mainly train students on CorelDraw software by preparing them from fundamentals. CorelDraw Designing is an art of learning and designing new pictures, designs, and logos for any firm or organization. This CorelDraw course in Indore will help you to boost your knowledge and skills which will help you to improve and to become a very good and successful Graphic Designer. It includes all the fundamental concepts of Getting Started with CorelDraw
CorelDraw Designing Trainers at Tech forest are full-time consultants at MNC.
We provide the most advanced CorelDraw course curriculum that will help you solve real-life Graphic Designing problems
Excellent lab facilities with skilled trainers to help you with live projects and implementation.
Tech forest has trained and Placed over 2000 students.
All our trainers have min 7+ years of experience in graphic design.
Once you finish our CorelDraw course in Indore our HR team collects a resume from you and they will make the required changes in it to make it professional. Since there is a lack of talent in CorelDraw designing. Therefore, companies are always looking for creative thinkers with innovative graphics concepts. The demand for CorelDraw designers is on the peak.
Fresher: 2.2 lacks – 3.0 lacks per year
4 years of experience - 3.5 lacks to 6.0 lacks per year
5 or more than 5 years – above 6 lacks per year
Photoshop training Indore, Photoshop course in Indore - Click Here